This is one version of "The war on Christmas" that I don't expect conservative media to dwell on.
Well, when you turn "Merry Christmas into a political slogan what do you expect?


Grieving family shamed for not putting up Christmas decorations in anonymous note


Christmas spirit is usually on full display in a California neighborhood that transforms two of its residential streets into a festive holiday spectacle.

But one Vacaville family living on Shady Glen Avenue, known as Lollipop Lane during the holidays, said they received a harsh note from an anonymous sender accusing them of lacking Christmas spirit.

"To live on Lollipop Lane and Candy Cane Lane is an honor and a privilege," the postmarked note, delivered to Lyndia Zarra's mailbox, reads. "It is completely unacceptable to not decorate a house for Christmas."

It continues: "It is extremely disrespectful, rude and selfish to not decorate a house on these two special and unique streets for the holidays. And tens of thousands of people wish all the Scrooges would not destroy our cities traditions for their own selfish reasons."

Zarra told ABC News that no one asked why her house looked bare before delivering the harsh message.

"I couldn't believe someone in the neighborhood would be so mean," Zarra said of the letter she received the day after Christmas.

"I have no hint as to who may have sent it," she added. The note was signed, in part, "Everyone."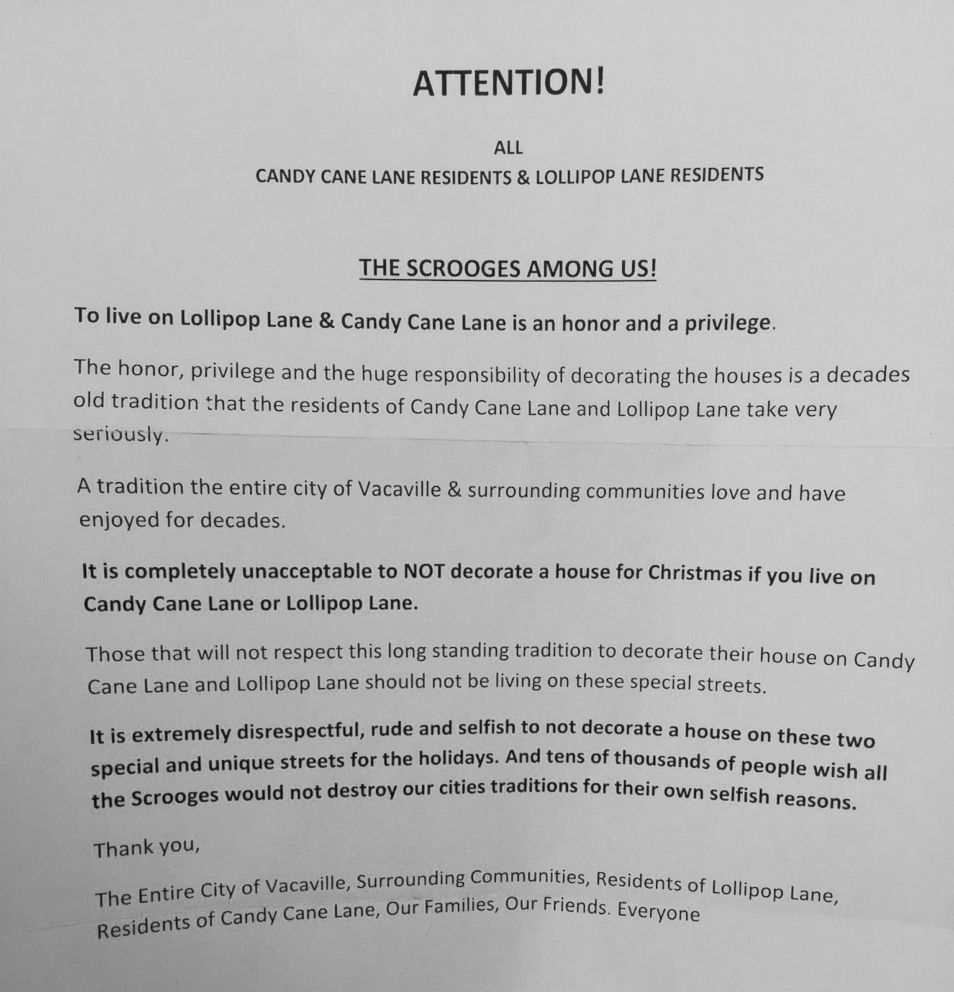 Zarra has put up other Christmas displays since she moved to her home six years ago, she said. This year, she said she was working on a Tinkerbell series of hand-painted lawn cutouts with her mother before she died of stage 4 liver cancer.

"She was helping make the decorations. It was her therapy to get through her battle with cancer," Zarra explained. "She got half of them done, but passed away and didn't get to finish."

Despite the incident, Zarra said she will go all out next year to pay tribute to her mother.

"I can't let one mean person stop me from honoring my mother. Christmas was her favorite holiday," Zarra said.

Until next Christmas, she said her husband, Marcus Zarra, is continuing to remind her, "I can never let the bully win."