Fettuccine With Sweet Garlic, Tomatoes and Lobster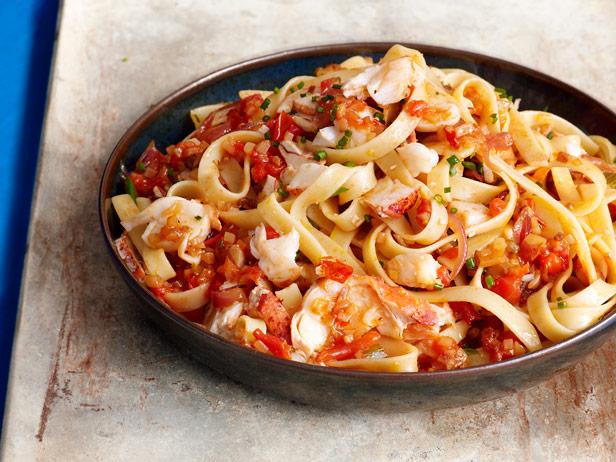 I usually cook with canned tomatoes. But in August and September when you get the best local tomatoes, celebrate them in every way, including this pasta dish. This is an uncomplicated dish for warm weather and sunny days. Olive oil, garlic, hot pepper, best tomatoes and tons of fresh basil are the only ingredients besides lobster and dried pasta.

6 gloves of garlic, peeled and left whole.
3/4 cup of sweet vermouth. I like Cinzano Rosso, available in your liquor store
4 lobsters, 1 1/4 pounds each, or 1 pound cooked lobster meat. If you prefer you can use 1 pound cooked shrimp instead
1 pound sturdy pasta, like fettuccine, or papardelle
4 tablespoons olive oil
2 large shallots, finely diced (Substitute with 1 medium red onion)
½ teaspoon red pepper flakes (Optional. You can serve it on the side if you like)
2 cups halved cherry tomatoes
 Salt and pepper
1 handful basil leaves, torn or roughly chopped

Make the sweet garlic.
In a 12- to 14-inch saute pan, heat the olive oil over high heat until almost smoking. Turn heat down. Add the garlic cloves and saute until lightly browned. Do not blacken.
 
Add the Cinzano and continue to cook over med-high heat until the garlic is soft and the wine is reduced to a syrupy consistency and coats the garlic.
Set aside.
 
Sweet garlic cloves can be stored for up to 1 week, in an airtight container in the refrigerator.

Cook your lobsters. (Or better yet, have our grocer steam them for you.) Get a pot of salted water boiling vigorously and cook for about 7 minutes, until bright red. Set aside to cool. Once cool, remove meat from tail, claws and knuckles, and chop into 1/2-inch chunks.

Pasta
Bring a pot of well-salted water to a boil and cook pasta one minute short of al dente per package directions. Reserve pasta water.

Sauce
Meanwhile, pour olive oil in a wide skillet over medium-high heat. Once oil is hot, Add shallots (or onions) and cook for 2-3 minutes, without browning. Roughly chop the sweet garlic and it and  red pepper If using)  and cook for 1 minute. Add tomatoes and season generously with salt and pepper. Cook until the tomatoes soften and begin to collapse creating a sauce.

Add lobster meat, stir to coat, cook 1 minute, then turn off heat until pasta is ready. Don't over do this! Remember, the lobsters are already cooked. You are just looking to heat and coat them with sauce.

When pasta is done return skillet to heat, drain pasta and add to skillet, and season with salt and pepper. If the pasta seems dry, add a little of the reserved pasta water. Toss well, drizzle with a tiny bit more olive oil, and transfer to a warmed wide bowl or platter.

Add basil, toss once more and serve immediately.

*The Italians aren't down with putting parmesan cheese on seafood dishes. They think that the salty cheese over powers the lobster. I say, do what you want. But, if you do sprinkle with parmesan, use a light touch. Use much less than you would with you favorite spaghetti and meatballs.


Wine
Pair with crisp dry whites such as  Pino Grigio, Frascati, Verdicchio, Vernaccia di San Gimignano, Muscadet or Picpoul de Pinet.
A chardonnay works as well. Just look for an unoaked one.

If you prefer red wine, no problem. Because of the tomatoes and basil, red wine works. A light Sicilian red would be awesome. Pinot Noir from California works too.
Last edited by Goose (9/09/2017 10:21 am)