"This is one of the best economic environments the U.S. airline industry has seen in decades," said Harteveldt. "There is no need to race to the bottom."


Just when you thought your legroom in economy class couldn't get tighter.

American Airlines (AAL) is planning to decrease the front-to-back space between some of its economy class seats by another two inches.

The airline says it plans to add more seats on its coming Boeing (BA) 737 Max jetliners. To do that, it will shrink the distance between seats, also known as pitch, from 31 inches to 29 inches on three rows of the airplane, and down to 30-inches in the rest of its main economy cabin.

American isn't the only big airline heading in this direction. United Airlines (UAL) is considering a similar move, according to a person briefed on its evaluations. United declined to comment.

The move signals a new step in the shrinking of U.S. airline cabins, and comes even as carriers are promising to improve overall customer service.

With the change, American will become the first large U.S. carrier to offer legroom with a pitch that's nearly on par with ultra-low cost carriers Spirit Airlines (SAVE) and Frontier Airlines. Those seats are an industry minimum 28-inches apart.

By comparison, economy class pitch on Delta Air Lines (DAL) and United ranges between 30 and 31 inches, while JetBlue Airways (JBLU), Southwest Airlines (LUV) and Alaska Airlines (ALK) have between 31 and 33 inches.

The one advantage the big U.S. carriers still have over their lowest-fare rivals was a few more inches in economy.
The bathrooms on American's 737 Max jets will also be smaller, one person familiar with the planning said.
The new Max jets will have more than 170 seats, two sources said, compared to 160 on its existing 737-800s. The airline said it is keeping its extra-legroom 'Main Cabin Extra' economy seats, as well as its 16 first class seats.

These new single-aisle aircraft will go into use later this year and will primarily be flown on routes in North America.
Fliers will still pay regular economy fares for the 18 seats with two inches less leg room. Two of those three rows of 29-inch pitch will be in the back of the plane and a third farther forward. These seats won't be part of its new basic economy fares, which sell for less because fliers don't get access to overhead bins, a seat assignment or frequent flier miles.

An American spokesman said the airline will add 40 Max jets to its fleet by the end of 2019. It has 100 on order. The airline also said it might make similar changes to its existing fleet of 737-800s after the Max arrives, but no decisions have been made.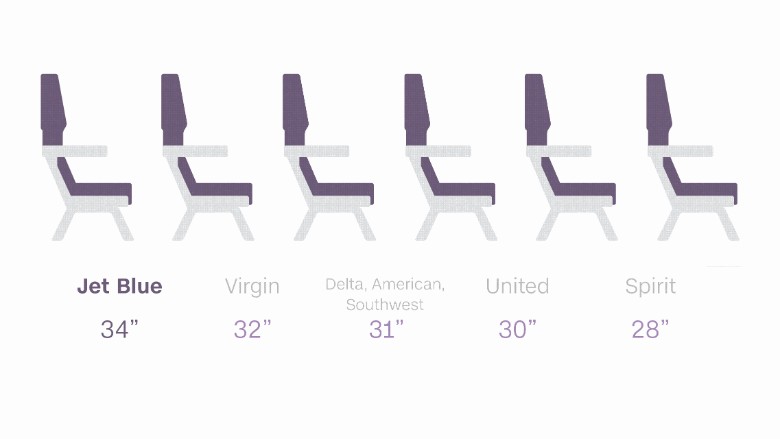 Last edited by Goose (5/03/2017 10:55 am)