First Russia. Now Croatia. 
Soccer mirrors tensions on the continent. Europe is facing some tough days.

Croatia fined and threatened with ticket ban over Euro 2016 crowd trouble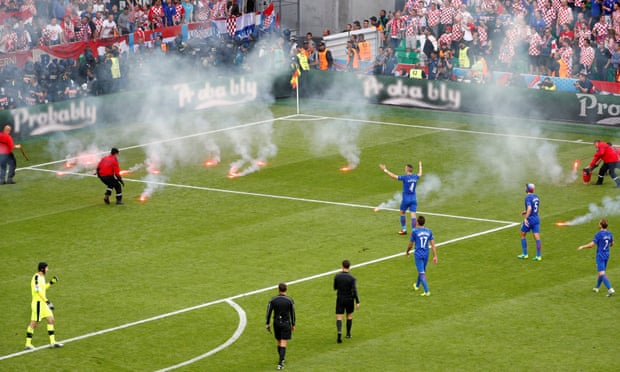 The Croatian Football Federation (NHS) has been fined €100,000 (£77,000) for incidents including the use of fireworks and the racist behaviour of supporters, Uefa has announced.

It has also been banned from selling tickets to fans identified as hooligans for the remainder of the tournament, a sanction that is deferred under a probationary period.

A series of disturbances occurred during Croatia's 2-2 draw with the Czech Republic in the Euro 2016 group stages in Saint-Etienne on Friday which led to a charge from Uefa relating to crowd disturbances, use of fireworks, throwing of missiles and racist behaviour. Croatia fans were seen fighting among themselves.

The Group D game was halted for five minutes by the English referee Mark Clattenburg when flares were thrown on to the pitch in the 86th minute. One steward appeared to be thrown from his feet when one exploded near him.

The HNS issued an apology and appealed for help from government and footballing authorities to tackle hooliganism and other crowd issues in Croatia.

Last month Croatia were sanctioned by the world governing body Fifa following discriminatory chanting during friendlies and ordered to play their next two home World Cup qualifiers behind closed doors.

Following a meeting of Uefa's control, ethics and disciplinary body, a statement read: "Charges relating to crowd disturbances, use of fireworks, throwing of missiles and racist behaviour had been brought against the HNS, and the CEDB decided to impose the following sanctions:

"A fine of €100,000.

"To prohibit the HNS from selling tickets to certain fans (identified by the HNS and the Croatian authorities as hooligans) for the remainder of Uefa Euro 2016. This sanction is deferred under a probationary period until the end of the tournament."

There have been a number of issues of crowd trouble throughout the tournament. Uefa has also announced that charges have brought against Romania and Albania following the latter's 1-0 victory over the former in Lyon on Sunday.

The federations of both countries will face charges over the setting off of fireworks and throwing of objects, with Albania having to answer an additional charge relating to a field invasion. A date for these matters to be dealt with is yet to be determined.

Cases are also pending against Turkey, Hungary, Belgium and Portugal, while Russia have been hit with a suspended disqualification following the violence which marred their draw with England.