I don't remember Window  Wax but do remember snow in  a can. Us kids would go crazy with it because there was not much snow in southern Arizona. Window after window would be coated. I think it was a contest to see who could cover the window completely. Putting it on was lots of fun, taking it off? Mom we need help!

Found this on E-bay. It sold for $102.00  Wish I saved the ones we had.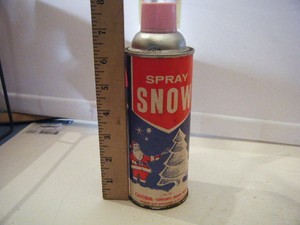 Waxing nostalgic about window stencils  (Maple Street-East Market Street)

http://www.ydr.com/story/opinion/columnists/2015/12/14/waxing-nostalgic-window-stencils/77292156/

During a conversation with a friend the other day, she mentioned artificial snow, that stuff you can spray on windows to simulate piles of snow on panes of glass.That got my mind to clicking about window wax and holiday stencils of Santa Claus and snowflakes."Window wax?" she asked.

Am I that old?I can visualize the pink can of creamy liquid that you would apply to glass or a mirror and then wipe off for a streak-free shine.  If you allowed it to dry for a while, it developed a white haze appearance.And that was the point of the stencils.You would hold the stencil up to the window and pour some window wax on a cloth or sponge and then dab through the open spaces on the stencils.  Remove the stencil and voila!  Santa, or snow flakes, or trees are created on the window.

All of that sent me to Internet. Sure enough, my old friend, Google, came through again.Window Wax was a common household cleaner back in the 1950s. It was made by a company named Gold Seal. The stencils were sold separately during the holiday season. 
As I recall, the product had a distinctive odor.I remember all of this because of the side window at my family's clothing store on the corner of Duke and Maple Streets. During the holiday shopping season (which did not begin until after Thanksgiving back then), the large front display window was filled with clothing as gift suggestions. The smaller display window on the Maple Street side of the building was filled with toys that would make a child drool with anticipation.

That left one other window on the Maple Street side of the store. It was a regular size house window above the roll top desk next to the sales counter. I was an indulged child, and my Aunt Hannah would allow me to "decorate" that window. The focal point of the window was a flashing light post – a former beer product advertisement display I had rescued from my Great-aunt Renie's tap room on East Market Street.

Around that electrified piece I would use the stencils and Window Wax to extend the holiday mood.Window stencils that sold for 59 cents back in the 1950s are going for almost $12 on eBay these days.  And, believe it or not, cans of Window Wax pop up on eBay at prices around $21.I do recall that removing the stenciled figures after the holidays was not as easy as you would think.  After a few weeks of drying on the window, the glass wax was stubborn to remove.I don't think later generations have the same memories when it comes to Windex or other modern glass cleaners.For me, I can wax nostalgic about Glass Wax.