#4 Move beyond Marinara Sauce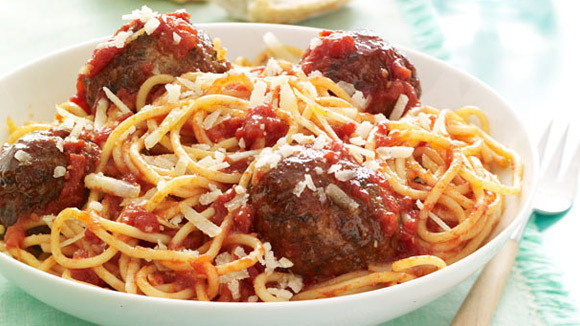 Who doesn't love a Sunday dinner of Spaghetti and meatballs? Only problem is, it's not Italian.

Contrary to popular belief, if you travel to Italy, you won't likely find a dish called spaghetti and meatballs on the menu. (And, if you do, it was placed there for American tourists).  While it's largely known as an Italian dish, spaghetti and meatballs actually didn't originate there. Sure, Italy has their own version of meatballs, but they're different than what you've likely had in the past. They're called polpettes, and are primarily eaten sans spaghetti. They're also made with any meat, from turkey to fish, instead of primarily ground beef and are made no bigger than golf balls. 

The origin of spaghetti and meatballs started with Italian immigrants coming to America in 1880 to 1920. The majority of immigrants were extremely impoverished, and had been spending 75 percent of their income on food in Italy, compared to only 25 percent  in the U.S. Meat quickly became a staple, and families were putting meatballs more frequently on the table.

Then came the sauce. For cooks in the United States, "sailor sauce" dominated Italian-American cuisine because canned tomatoes were among the only items available at local grocers. The marinara sauce originates from Naples and comes from the Italian word "marinaro," meaning sailor.

Spaghetti also became greatly popular in the U.S. because it was one of the only Italian ingredients available. Soon people began eating all three together.



Much of what we consider "Italian" food comes from Naples, and the surrounding southern Italian countryside, because that is where the majority of Italian immigrants to the US came from.
Marinara, Eggplant Parmesan, Pizza, all come from Naples and Campania.
And, it's great.
Forget the printing press. Pizza may be the greatest invention in the history of Man. 



However, Italy is much more than Naples. It's Sicily, in the south with citrus, and Flavors brought by Arab Traders. There is Lazio and Rome with it's artichokes, the Tuscan countryside with it's wild boar, Liguria with it's pesto, Milan with it's veal and rice dishes, the Veneto,,,,,, you could spend a lifetime exploring it.

Getting back to 'spaghetti', or pasta.
Expand your horizons. The Italians have hundreds of shapes of both fresh and dried pasta with perhaps thousands of preparations. Get out there and try making some. Many sauce, or condimento recipes can be prepared in the time it takes to cook your pasta.

Here are two favorites of mine:

Orecchiette ("Little Ears") with Sausage and Broccoli Rabe
This dish is the unofficial, official dish of Puglia. Puglia is the heel of the Boot.

ORECCHIETTE WITH PORK SAUSAGE AND BROCCOLI RABE
1 pound Orecchiette
1/2 cup olive oil
1 pound loose sweet italian sausage
3 cups broccoli rabe (cut into 1-inch pieces)
2 cloves garlic (peeled, grated)
1/2 teaspoon red pepper flake
1 cup Pecorino Romano (grated)
Kosher salt and freshly ground pepper (to taste)

Bring a large pot of salted water to a boil. Drop Broccoli Rabe in for two minutes and remove and drain in a colander. Then wring dry with paper towels.

In same water add pasta and cook until pasta is al dente, roughly 1-2 minutes less than the package directions, reserving 1/2 a cup of pasta water to the side.

While pasta is cooking, heat a large skillet over medium heat. Add the olive oil and sausage to the pan, breaking it up with a potato masher or wooden spoon as it cooks. Cook for 10 minutes or until the sausage is almost fully cooked. Add the broccoli rabe and season with salt and pepper.

Once the broccoli rabe begins to soften, add the garlic and red pepper flake and cook until fragrant. Add in the pasta and the reserved pasta water and stir to combine. Remove from heat and stir in the pecorino and a drizzle of olive oil to taste.






SHEPHERD'A PASTA

This pasta dish, also known as Pasta al Pastore is said to have originated in Calabria by sheep herders.
Calabria is the toe of the boot.

This is another one of those quick and easy pasta dishes that you can put together in the time it takes you to boil the water and cook your pasta. I've read many online sources describing this pasta, also called Pasta al Pastore, and it is claimed to have originated from Calabrian sheep herders who needed to make a quick, hearty meal with ingredients they have on hand. 

Ingredients:

1/2 Pound Fresh Mild Pork Sausage, Removed From Casings
2 Cloves Garlic, Peeled & Minced
1 Pound Of Pasta, Rigatoni, or rotini
2 Tablespoons Olive Oil
1 Pound Fresh Ricotta Cheese
Salt & Pepper
1/3 Cup Grated Pecorino Romano Cheese

TO SERVE:
Cracked Black Pepper
Additional Grated Pecorino Cheese
directions:

Place a large pot of salted water on to boil for the pasta.

In a heavy skillet, cook the sausage until lightly browned, breaking up the sausage meat with two forks as it cooks.

Add the garlic and cook until fragrant.

Add a couple of tablespoons of pasta water to the skillet and keep warm over low heat.
Cook the pasta until al dente, then drain the pasta, reserving a cup of the pasta water.
Return the pasta to the pot and add the olive oil and sausage over medium heat stirring to mix.

Add the ricotta, and enough of the pasta water to loosen the ricotta so it coats the pasta and remove from the heat.
Season with salt and pepper and stir in the 1/3 cup of grated Pecorino cheese.

Serve the pasta in individual bowls, offering additional cheese and cracked black pepper at the table.


Last edited by Goose (4/30/2018 6:21 am)