Trump Administration Is Ending Safety Regulations Enacted After Deepwater Horizon Oil Spill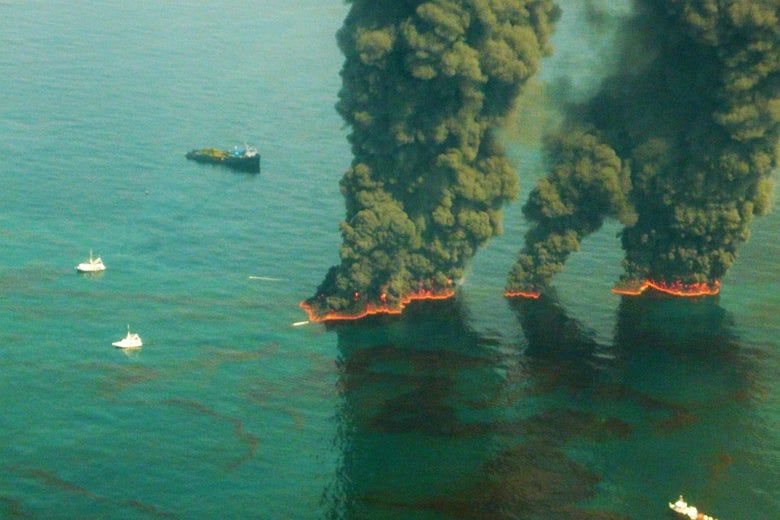 The Trump administration is undoing the safety and environmental regulations put in place by President Obama after the 2010 BP Deepwater Horizon disaster that killed 11 people and, for weeks, dumped millions of barrels of oil into the Gulf of Mexico, amounting to the worst oil spill in U.S. history. The catastrophic environmental event killed nearly 1 million birds along the Gulf Coast and led to BP paying $18.7 billion in civil penalties and damages. According to the Bureau of Safety and Environmental Enforcement, the regulatory changes will save extraction companies some $288 million over 10 years.

The 2016 rules implemented by the Obama administration focused on trying to ensure the safety of drilling equipment, several pieces of which failed during the Deepwater Horizon spill. It also shut off certain portions of the American coastline from drilling. From the New York Times:

The Obama-era rules, written in 2016, tightened controls on blowout preventers, devices that are intended to stop explosions in undersea oil and gas wells, and called for rig operators to have third parties certify that the safety devices worked under extreme conditions. In the Deepwater Horizon spill, a supposedly fail-safe blowout preventer failed after a section of drill pipe buckled.

President Trump showed his intent to undo drilling restrictions and safety regulations for offshore drilling in an executive order this April. The Department of Interior is publishing the proposed rule changes Friday.