Benching of Eli Manning Ends an Era for the Giants in the Ugliest Way Possible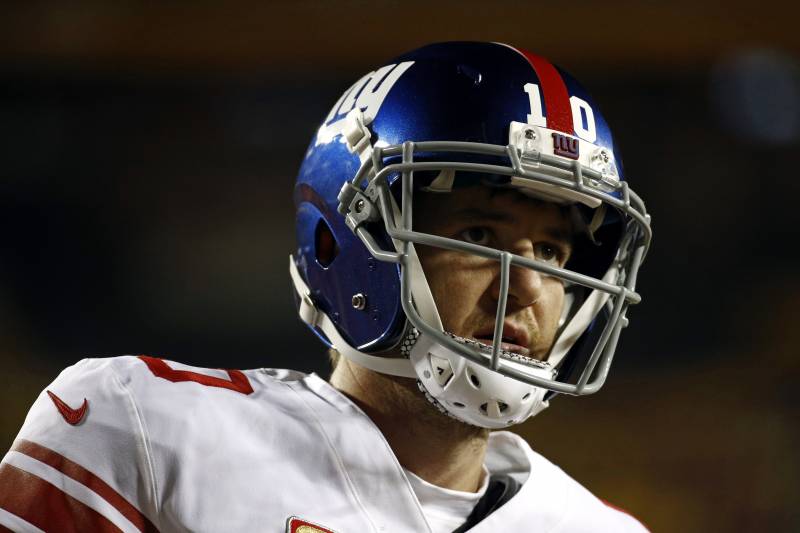 Eli Manning will be back before you know it.

Manning was unceremoniously benched Tuesday afternoon after 14 seasons and 210 consecutive starts. The two-time Super Bowl MVP will be replaced by former tabloid back-page chew toy Geno Smith, a quarterback so inept that he deserved about half of the criticism he received during his Jets tenure.

The Giants have a more likely quarterback of the future on the roster in rookie Davis Webb, but Ben McAdoo, a lame duck whose New Year's Day plans involve updating his LinkedIn page, is now the coaching equivalent of a movie character climbing into the cockpit of a crashing spaceship and randomly mashing buttons.



Recent history teaches us that starting quarterbacks always return quickly after their coaches/organizations make flailing, desperate decisions like this one. Trevor Freakin' Siemian came back after four games. Benching is never forever in the NFL, unless Tom Brady and Drew Bledsoe are involved. And Geno Smith ain't no Tom Brady.

Smith replaced injured Ryan Fitzpatrick early in a 2015 game and got injured himself in the fourth quarter, forcing the banged-up Fitzpatrick back into the game briefly. Smith survived just eight pass attempts in his last NFL start before Fitzpatrick had to replace him again. He will either get crushed while running for his life behind the Giants line or play to his usual Geno Smith level of sub-mediocrity.

McAdoo may then turn to Webb to see what a third-round pick can do for a team with no healthy receivers and an offensive line that was only recently upgraded from "disaster" to "embarrassment." Or he may do Webb the favor of re-inserting Manning. Either way, an ugly Giants season is about to become septic.

As for the Eli Manning era in New York, it's already over. Even if Manning relieves Smith at halftime on Sunday. Even if Manning returns next year, when McAdoo is just a bad flashback and the new coach decides not to look the gift horse of a proven incumbent quarterback in the mouth.

The Manning era was over before Smith was named the starter. It was over before the Tuesday morning announcement that the Week 14 Giants-Cowboys game has been deemed so irrelevant that the television networks flexed it out of a favorable time slot—for a Jaguars game, no less. It was over before Manning threw for 113 yards and an interception in a Thanksgiving loss that sent America to sleep before halftime.


The Eli Manning era ended the moment McAdoo blamed Manning for the delay of game penalty at the goal line in the Week 2 loss to the Lions.

That's when McAdoo displayed his true colors. That's also when it became clear that, for all their spending, the Giants' Super Bowl strategy boiled down to hoping Odell Beckham Jr. would carry them every step of the way.

The 2017 Giants were short-window contenders, custom-built to win one more Super Bowl while Manning was still a viable franchise quarterback. The experiment has been a slow-motion failure since the start of camp. But there was still hope in Week 2, when Beckham made his triumphant-but-brief return from injury, Brandon Marshall was still a thing and the Giants defense still had a chance to live up to its reputation and price tag.

But that loss, and McAdoo's foray into the Manning Blame Game, sent the Giants skidding downhill into helplessness on offense and regularly scheduled mini-rebellions on defense. They were terrible, and Manning could do little to elevate the meager talent left surrounding him, but at least Manning's presence gave the Giants a shred of dignity.

Manning had to choke back tears when talking to reporters Tuesday. Giants legends like Justin Tuck lined up on Twitter to take batting practice at McAdoo and the organization after the benching was announced. So much for the Giants' dignity.