Simple as it gets. But a fun, meatless dinner with a hint of spring!


Penne with Spring Vegetables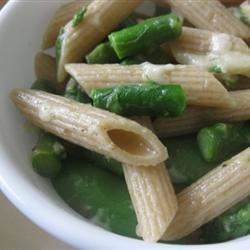 1 pound fresh asparagus, trimmed and cut into 1/2 inch pieces
1 (8 ounce) package sugar snap peas, trimmed
1 (8 ounce) package dry penne pasta
3 tablespoons olive oil
1/2 cup grated Parmesan
salt and pepper to taste

Directions

Bring a large pot of lightly salted water to a boil. Add asparagus, and cook for 2 minutes. Add peas, and cook for 2 more minutes. Transfer to a large bowl; set aside.

Add pasta to boiling water, and cook for 8 to 10 minutes or until al dente; drain.

Add oil to a skillet and heat. 
 Toss pasta with vegetables in hot oil in skillet fot two minutes.
Add Parmesan, salt and pepper.
 
Last edited by Goose (3/22/2017 11:34 am)