Is America's dalliance with the Premier League coming to an end?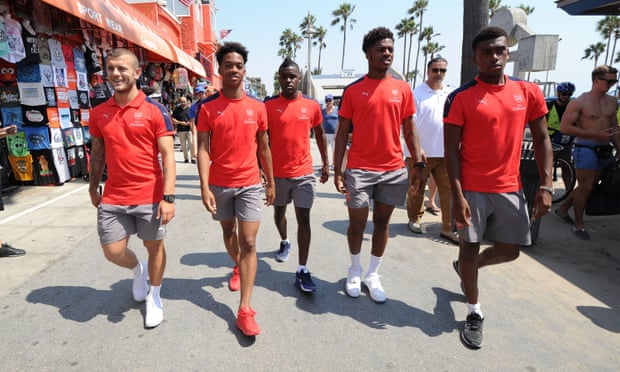 Dave Caldwell

On Sunday, Arsenal and Tottenham played out a draw in a North London derby that could prove to have serious repercussions for the Premier League title race. But American fans had to get up early or find means to record the match and watch it in a spoiler-proofed room. Kickoff, after all, was at noon in London – 7am in New York and 4am in Los Angeles.

Ideally for American fans, the match would have aired live on the NBC Sports Network early Saturday or Sunday afternoon in the United States, but the NBC Sports Network has no input when starting times are determined before the season for matches in the first two months of the season. Two British networks, Sky Sports and BT Sport, paid an enormous amount for that privilege – understandable given that, despite the Premier League's international reach, it is still an English product.

But even a later kickoff in New York might not have made a difference, anyway: Premier League telecasts in the US on the NBC Sports Network are down some 17% from a similar point last year.

It is a surprising number, especially since the NBC Sports Group reported in May that Premier League telecasts had captured a record number of viewers for the third straight season. New fans were attracted by the tradition and pageantry of English football, not to mention that matches are decided in about two-thirds the time of an advertisement-splotched NFL game.

Sports Media Watch reported that Premier League viewership on NBC has been lower in 35 of 49 broadcast time slots that can be compared to last year. For example, last month's Liverpool-Crystal Palace match drew 769,000 viewers, down from the 1.2 million who had watched Arsenal-Everton in the same slot last year. (Time slots, or "windows," are a significant factor. The first of two Premier League matches between Manchester City and Manchester United this season was played at 7am Eastern time on 10 September and drew 623,000 viewers, about 20% less than the first match between the two rivals a year ago which kicked off at 10am ET.)

NFL viewership in the US is lagging, too, by about 12%, and Premier League viewership in Britain is reported to be down by 20% this year, an even sharper decline than in the US. So the Premier League ratings decline in the US has not happened in isolation. But the two brands of football in the two countries do seem to have one thing in common.

There might be too much of them.

"It's not the NFL, but, in my opinion, I do think that there is kind of an oversaturation," Rick Gentile, a former CBS Sports executive producer who now runs the Seton Hall University sports poll, told the Guardian of the Premier League. "I don't know if I'm exactly right, but it's been shown that a degree of success encourages the powers-that-be, 'Let's put more in there.' And so there's diminishing returns."

Of course, fans don't need a TV to watch sports when they have access to a laptop or a phone. A spokesman for NBC Sports told the Guardian that viewership of live streaming Premier League matches carried on NBCSports.com is accounting for about 6.5%of its total audience – more than double the amount of viewers for similar events a year ago.

Last month, the Atlantic postulated that there were several factors leading to the sharp decline in NFL viewership in the US – one of them being, in all seriousness, the chaotic presidential race, which has been entertaining in its own way. But the article also pointed out that fewer younger people are watching TV, let alone cable TV, than in the old days.

So sports leagues have had to extend their reach to to grab audiences. Friday night games have been added to the Premier League schedule, and American fans have dozens of midweek European-level games, starting at afternoon Eastern time, from which to choose. Arsenal and Tottenham, for example, played Champions League games last week.

And Fox, not NBC, carries Champions League matches in the US.

"It can be like, 'I got confused. Where's Arsenal again?'" Gentile said. "To me, the whole European soccer phenomenon in the United States is a novelty at this point."

There is a lot for an American sports fan, even a soccer novice, to like about a Premier League match. There is less scoring than American football or NBA, but NBC Sports mostly uses British announcers and analysts and include lots of crowd shots to capture an authentic feel. Because play is continuous, anyway, NBC can't gum up Premier telecasts with a nonstop parade of commercials – of which many NFL viewers have grown tired. (There are usually 10 to 15 minutes of actual action in a typical 60-minute NFL game.) The timings help too – the Premier League is not competing against any of the major US sports leagues at 10am on a Saturday.

Still, Gentile, a 10-time Emmy Award winner, recalls when he worked at CBS Sports when the network televised NBA games. The NBA had little buzz and its TV ratings were stagnant, so its new commissioner, David Stern, made a momentous decision. "Stern said, 'Let's cut back. Make the NBA more of a rarity.' So he did," Gentile said. "It was a wildly successful strategy, and with Michael Jordan coming along, that didn't hurt, either."


Is the unthinkable happening – are people finally switching the football off?
 Read more
The Premier League season has six months to go, and NBC is optimistic that viewership of Premier League games will jump when the NFL and college football seasons end and sports fans want to watch something athletic played on grass, sometimes in the cold rain and gathering darkness.

The favorites are back on top in the Premier League too after Leicester's surprise win last year, and favorites tend to draw more here. Of the 15 top Premier League US telecasts before this year, Arsenal, Manchester City, Chelsea and Manchester United had played in 14. Only United have struggled this season – if the season ends with a few of those teams still in close contention figures could rise again.